ENRAF Curapuls 970 Continuous and Pulse outputs (Used)
(Sales Ref RWR00105)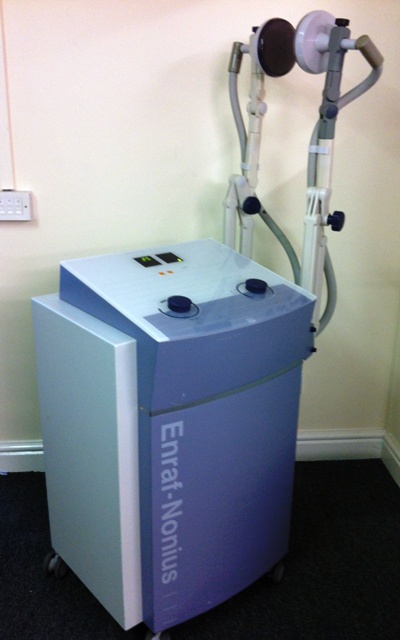 Description:


NOTE: Picture shows the Curapuls with the Capacitive electrodes but it can also be supplied with an Induction electrode (circuplode) if required...POA
TECHNICAL SPECIFICATIONS
Generator frequency: 27.12 MHz, ± 0.6%
Output power: continuous HF max. 400 W, pulsed HF max. 1000 W (peak)
Pulse duration: 400 μs
Pulse repetition frequency: 15-200 Hz adjustable in 10 steps
Mains supply: 230-240 V / 50 Hz
Mains voltage variation: approx. ± 10%
Current consumption: approx. 6 A (at 230 V)
Dimensions (wxdxh, without arms): 56x43x92.5 cm
Length electrode arms: 93 cm
Weight: ca. 80 kg
CONTINUOUS AND PULSED OUTPUT
The continuously adjustable intensity and the output of 400 Watt provide optimum application possibilities. Continuous shortwave therapy increases the circulation and stimulates the metabolism. The pulsed peak power can be set to a maximum of 1000 Watts. The related average power is, however, much lower. Biological pro­cesses, which should not be heat-treated, can therefore be treated thermally.
THE ELECTRODES
An electrical field can be created with the disc electrodes or the rub­ber electrodes*, depending on the shape and size of the body part to be treated. A choice can be made from a wide range of capacitive electrodes. A magnetic field can be created with the Circuplode* or with the Flexiplode*.
STRIKING EFFECTS
Besides the well known effects of heat therapy with continuous radi­ation, the unit's pulsed mode will stimulate wound healing, oedema and haematoma absorption, pain reduction and stimulation of the peripheral circulation.
EASY TO MOVE
Four large wheels make the Curapuls 970 easy to move within your practice. Two wheels can be locked to immobilise the unit.
Supplied with (see photo):-
Disc (Schliephake) electrode Ø 130 mm (x2)
Electrode cable (x2)
Electrode arm (x2)
* optional extras (POA)
Carriage charge applicable for England & Wales. (For other areas please contact RWR)
| | | |
| --- | --- | --- |
| Price (excl VAT) | | &pound1,195.00 |
| Carriage | | &pound75.00 |
| VAT at 20% | | &pound254.00 |
| | | |
| Total Price | | &pound1,524.00 |